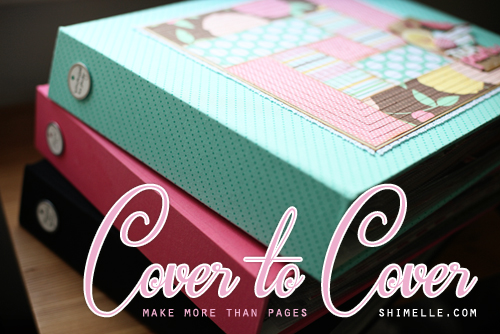 Have I said lately, how much I LOVE taking
Shimelle's
classes! I never fail to be inspired and productive when I am under her tutelage. :) She rawwwkksss the teaching and scrapbooking thing! I have taken some other SB classes recently and I cannot help but compare teaching styles to Shimelle's. She is a class act and has pretty much ruined me for all other teachers. Dang her!
Right now, I am a little over a week into her newest class,
Cover to Cover.
I was not sure that I would get into the class, because honestly it just didn't seem like something I needed or was particularly interested in. However, being the die-hard Shimelle fan that I am I KNEW I would come away from the class with something useful. Boy, did I!!!
I have spent the past week going gathering, sorting, stacking, and organizing layouts. They were in albums, but not in any sort of system that made much sense. I have never been a chronological scrapper and never felt stress to "catch up". However, I decided that as much time, work, and effort I have put into creating all these layouts I should give them more presentable and respectable homes.
My first decision was to replace my older post bound albums with D-Ring Albums. Now, I can't do this all at once, because they are expensive. I purchased 3 new albums in the past couple of days using my 40% off coupons from Michael's and Hobby Lobby. Instead of $19.99 each, I paid around $13.00 for each. Not bad! I plan on buying a new one now and then, and slowly replace them all.
Next, I decided to create albums for each of the following people/subjects:
My children (Andrea, Ericka, & Tristan)
My grandbaby (Emery)
My sweetie (Keith)
Me
Our Lives (Volumes)
Early Years
Family (Extended)
Journal Your Christmas (Yearly Album)
Travel Albums
Mostly, all my albums are now in chronological order. The only problem with this: before I took this class, I always created with only the page at hand in mind. I never really thought about how the album as a whole would work together to tell a story. Therefore, the designs in my newly re-arranged albums are not all that cohesive from page to page. I am okay with that. I am learning and progressing. In the future, I plan to keep the flow going in each of my albums and try to gear more towards cohesiveness.
Lastly, I decided that if I am going to spend so much time making layouts and telling stories, shouldn't they be accessible and not shut away in a dark closet collecting dust and cobwebs? So, here are my albums in their new respectable & tidy homes displayed on a shelf in my office. Don't they look cozy and inviting!
I couldn't be happier that I took this class. I <3 Shimelle! :)